Skip to Content
Special Offers for Pest Control Services in Glendale, La Canada, & Pasadena
Hydrex Pest Control Provides Professional Termite Services
The team at Hydrex Pest Control aims to keep your home or business in Glendale, La Canada, & Pasadena free of termites at an affordable price. We are proud to offer specials to ensure that you can receive the termite coverage you need to protect your home and family. We have been serving customers throughout Glendale, Burbank, La Cañada Flintridge, La Crescenta, and the Foothill areas for more than 70 years. Our friendly, highly-trained team can expertly evaluate your situation and provide solutions that eliminate and prevent termites and other pests. We use proven, state-of-the-art techniques that we administer in a humane, highly-effective manner. Our options include reduced impact services (RIS) and low-toxicity treatments to ensure the safety and health of your family and pets. Contact us today to learn more about our special offers for termite treatment and fumigation.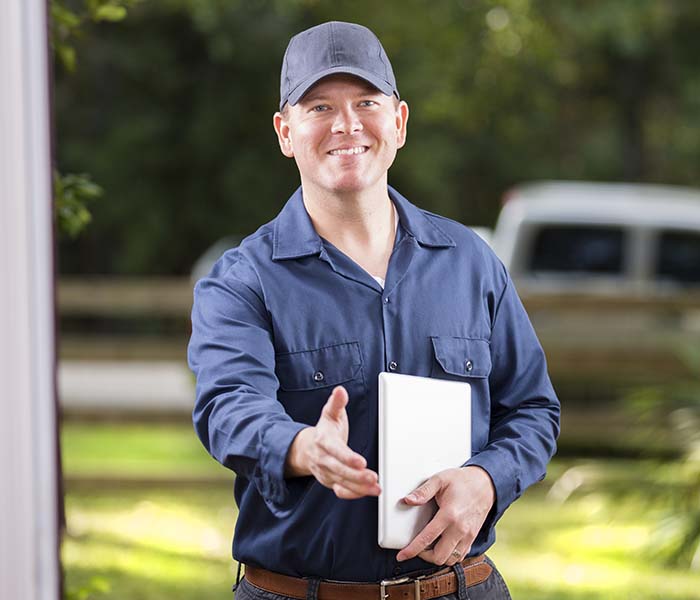 Protect Your Commercial or Residential Property From Pests
It is not uncommon for homeowners to have a termite infestation problem without even knowing it. By the time you notice signs of termites – such as wood shavings around your home, discarded wings, or damaged floors and walls – they have likely been damaging your property for quite some time. Therefore, it is critical to call Hydrex Pest Control immediately after recognizing the termites' presence so that our professionals can thoroughly examine the situation. Termite damage totals more than $1.5B annually, which makes the prospect of being unaware they are in your home or office even scarier. Our professionals are trained to recognize signs of an infestation, so reach out to us for a free home inspection. We will use tools including moisture meters and sound amplifiers to detect any infestations or areas of concern. We will also determine the type of termite – dry wood or subterranean – so that we may tailor a treatment plan accordingly.
Our Team Offers Expert Termite Fumigation Services
The most effective way to prevent the spread of termites and their damage is fumigation. Hydrex Pest Control is a leading provider of termite fumigation services in the Glendale, La Canada, & Pasadena area, allowing us to quickly, safely, and affordably rid your home of the pests. We have honed our ability to fumigate homes and commercial properties for more than seven decades, always staying up to date on the latest in termite control technology. Our professionals will carefully develop a pest control solution that utilizes fumigation while maintaining your safety and health. Throughout the process, we are committed to keeping you informed about what we are doing and why. We want you to understand how fumigation works and what makes it the best termite treatment option. Additionally, we will help you prepare for such services.
We Also Provide a Host of Other Pest Control Services
Termite extermination and fumigation are only two of our specialties. We can also help you eliminate rodents, cockroaches, insects, and ants from your home in Glendale, La Canada, & Pasadena, or the surrounding area. The Hydrex Pest Control team employs reliable strategies to protect your home without jeopardizing the health of your family or employees. We make an effort to complete every project in a timely manner so that your life is not interrupted for an extended period. We want you to quickly get back to your everyday routine following our pest control services. Hydrex Pest Control also wants to ensure you do not have to choose between paying the bills and eliminating pests, so we are happy to provide special offers to reduce your costs.
Take Advantage of Our Special Pest Control Services Offers
Hydrex Pest Control is happy to help confirm or deny any suspicions you may have about a pest infestation in your home or office. It is wise to be proactive about pest control services by scheduling a free inspection if you notice any signs of damage or hear any unwanted critters crawling around your property. Our experts are highly skilled in identifying pest infestations and use specialized equipment to determine their extent. But what is even better is our ability to address any issues immediately upon discovering them. Take advantage of our 15% discount for ongoing general pest control service – excluding rodent service – for new customers and 10% off total services for seniors. It is our way of thanking you for trusting us since 1946.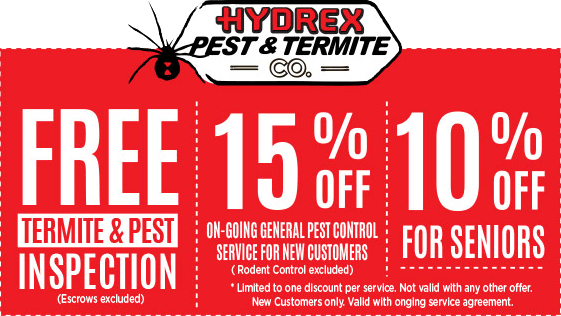 Contact Hydrex Pest Control for Our Specials Today
Quick action to rid your home or office of pests is vital to halting their spread and minimizing any damage. Hydrex Pest Control has spent more than 70 years providing pest control services to homeowners throughout Glendale, La Canada, & Pasadena, and the surrounding area. As a token of our gratitude, we are happy to offer specials for our leading pest control services. We are committed to providing 100% customer satisfaction, and that encompasses affordability. Contact us today to schedule your free home inspection and learn more.
Schedule Your Consultation Today!