Skip to Content
Professional Bed Bug Control in Pasadena, Burbank & Glendale, CA
Eliminate Bed Bugs From Your Home
Bed bugs can make your nightmare a reality, but the pest care professionals at Hydrex Pest Control can remedy the situation with expert bed bug removal services for homeowners in Glendale, CA. It's critical that you reach out to us immediately for bed bug control services as soon as you notice any in your home. These tiny insects often hide in dark corners and are incredibly difficult to remove without a professional and licensed pest control company. We offer our bed bug control services in and around: Glendale, Burbank, La Crescenta Montrose, Arcadia, San Marino, & Pasadena. Learn more about our bed bug pest control services and get in touch with us today to schedule a free inspection and estimate.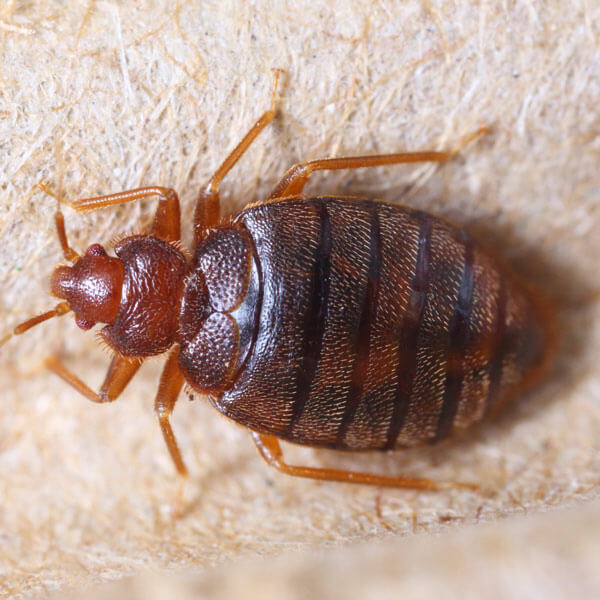 Signs You Have a Bed Bug Infestation
Some people are more sensitive to bed bug bites than others, making it challenging to recognize where your small red bites may be coming from. Bed bug bites can be itchy and appear in places where your skin was exposed while you were sleeping. Your bites may appear in groups. If you even suspect bed bugs, you need to take action immediately because these pests multiply quickly or can travel to another area of your home.
Where Do Bed Bugs Hide?
You will very rarely see bed bugs in the same way that you would see ants, cockroaches, and other pests. Bed bugs retreat and hide after they feed. Your bed may have red or rust-colored spots. Inspect the corners of your sheets, cracks in the floor, mattress dimples, and other similar areas. Adult bedbugs are about the size of an apple or poppy seed, and younger pests are much smaller. Bed bugs do not like sunlight, so they will hide during the day. It can be challenging for homeowners to detect bed bugs, but our professionals have the experience, equipment, and expertise necessary to find and treat them. Some spaces bed bugs may be hiding in include luggage, backpacks, purses, books, recliners, and sofas. Hydrex Pest Control offers bed bug control services in Glendale, Burbank, Pasadena, La Canada, Arcadia, La Crescenta, and Sunland-Tujunga, CA.
Effectively Getting Rid of Bed Bugs
In some cases, bed bug extermination can be a lengthy process. Working with our pest control specialists can help us expedite the process. Some things homeowners may be asked to do to speed up the bed bug removal process include laundering their bedding and garments at 120°F or higher to kill bed bugs and their eggs, vacuuming up the infested areas, scraping bedding and other infested areas to help dislodge eggs, and treating any former bat or bird nesting areas that may be infested.
Bed Bug FAQ
Our customers have a lot of questions about bed bugs. Check out these questions and answers in this bed bug FAQ, and get in touch with us if you have any other questions:
Are bed bugs dangerous?
Bed bug bites can be itchy, but there are other negative effects of these pests. There are mental impacts from having bed bugs, including stress and lack of sleep. Bed bugs can be expensive and time-consuming to treat if you don't discover them early enough. They can be a public relations problem for landlords or hotel owners.
How did I get bed bugs in my home?
There are many ways that bed bugs can find their way into your home. They often enter homes as stowaways in luggage, on clothing, and more. Used furniture is a common place where bed bugs hide, so be careful about bringing it into your home. You may pick up bed bugs at a hotel or motel or if you purchase used clothing or furniture. Avoid bringing in any items left on the curb if you live in an apartment complex.
Schedule a Bed Bug Inspection Today
While you may or may not be able to determine if you have bed bugs, our pest control specialists will surely find out. Get in touch with us at the first sign of a possible infestation so we can stop these pests in their tracks. We offer bed bug bite control and many other services. Contact us today to schedule a free inspection and estimate.
Schedule Your Consultation Today!