Skip to Content
Termite Wood Damage Repair
Termite Wood Repair Services in Glendale & Pasadena, CA
When termites have infested your home for long enough, they begin to damage the wooden structures. When this happens, it can cause many long-term problems. In some cases, it gets so bad that they infect the furniture and even the drywall within your home. The timber within your house functions as the bones of your home. When damage gets this bad, we need to remove the termites and repair the wood. Hydrex Pest Control & Termite Co. performs termite wood repair services in Glendale, California. We have specialized techniques for removing the infestation and repairing the wood so that it looks and works just like new.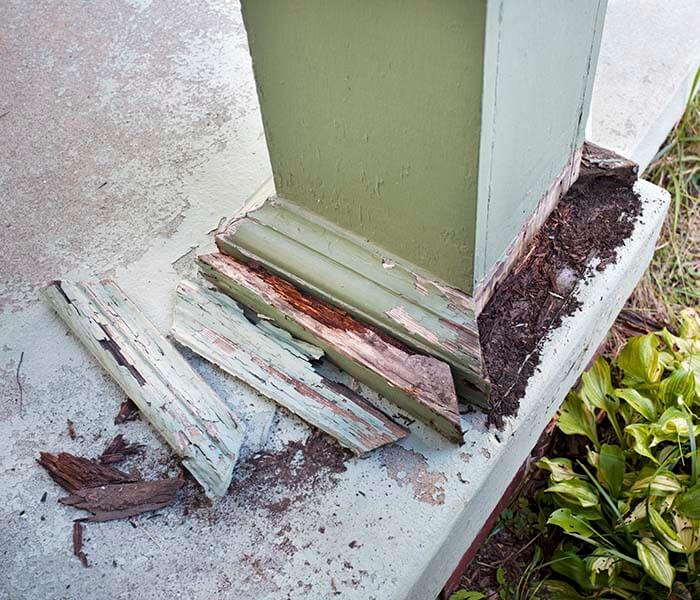 How Do I Know That I Need Termite Wood Repair Services?
You may not always know when you need termite wood repair services. Sometimes, the damage is serious enough that it will be visible. You may notice kick-out holes in the exposed wood around your house, such as the struts in your attic. In severe cases, you may see an entire section of wood that has been eaten away. To the untrained eye, the damage may look like rot. If there are tracks and small holes, then it is most likely a termite infestation. The only way to know for sure is to schedule a free inspection with a professional.
Termite Wood Repair Options
We have two main approaches when it comes to repairing wood that a termite colony has damaged. We can fill the area, or we can replace it. Each method has benefits and drawbacks. Our team will explain which option is the best choice for your home based on the severity of the infestation. Whichever method you choose, it's vital to eliminate the termites first. However, it is helpful to understand each option, which includes:
Wood Filler
When an infestation is relatively minor and has not completely eaten away parts of struts, joists, or studs, then wood filler is an excellent option. It is more budget-friendly than replacing an entire section of wood. It can also last for as long as the infestation stays at bay. We fill all holes with wood filler that seals off all the termites' kick-out holes.
Wood Replacement
When termites have caused enough damage to a piece of wood, it may need to be completely replaced. When the structural integrity of a piece of wood is compromised, your home is at risk of more serious damage. We can strategically replace pieces of wood that were infested and return you home to normal.
Get a Free Inspection From Hydrex Pest Control & Termite Co.
When an infestation has damaged the wood in your home, you need to repair it as soon as possible. When you put off wood repairs, the infestation is more likely to return, and structural damage to the home can occur. Things like collapsed roofs have happened in some of the most tragic cases of unrepaired termite damage. Luckily, Hydrex Pest Control & Termite Co. offers free inspections. We can tell you how urgent your wood repairs are and develop a plan to address them. To get your free inspection, call us or fill out a contact form.
Schedule Your Consultation Today!